AstroQuick main window
This homepage will pop up after you
log in
.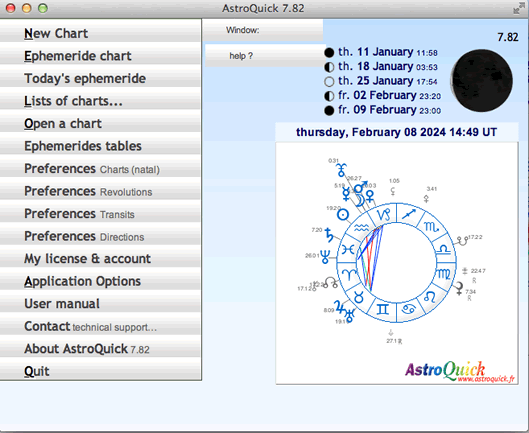 Click here to know more about this menu
.
On the right of the homepage you can find information about your birth charts (functional for natal charts).
On the right part of the window, a welcome message will pop up after logging in with :
The version of the software license (ECO, PERSO, PLUS, DEV, etc.). Information to upgrade with another version.
The identification number of the software version. This indication changes everytime you upgrade or change your software.
The expiration date of your license. If you are getting closer to that date, it will be highlighted in yellow for you to remember to renew your license. Make sure you know that by renewing your license at least 30 days before it expires you will get a discount.
The last time you logged in. Make sure you understand it is not the last time you used the software.
If you ever notice that your account was active when you were not supposed to be logged on, that means someone hacked your account. Indeed, if the Astroquick team ever logs on your account to fix any technical problem you will automatically be informed. Consequently, if you realize your account was hacked, you immediately need to change your password and inform the tech department with what happened on your account.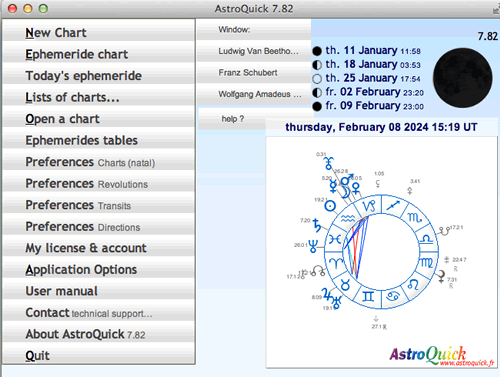 On top of the sky chart are the Moon phase (updated every hour) and the dates for Moon phases in days, months and
Universal Time
.
The sky chart is
an astrological clock that is updated every 5 minutes
(at the most). The corresponding dates and times are indicated below, in
Universal Time
.
Just like the hourly charts, we created this sky chart with the place and the houses by default in the
application options
. The other preferences are the ones
we use for the charts
.
You need to leave this window opened while you are still logged in.
If you inopportunely close this window, there are two ways to reopen it:
Simply by clicking on the bookmark or by going back to the logging page (in your browser). Since you are still looged in, the logging page will automatically be replaced by this homepage.
From a chart window:
- by double clicking on the title of the menu 'AstroQuick'.
- or by clicking on Page Up or Home on your keyboard.
To close this window and log off the software, click on 'Quit'.
Be careful: by closing this window you are not logging off. If someone else was to use your computer right after you close this window without logging off they could access your account (without password) !
To securely log off this software, always click on 'Quit', especially if you use this software on a public computer where data are shared.
Sky chart
The size of the lines of the aspects depends on the aspect orb. When this orb is less than 2 degres, the line will be thicker.